Viktor Frankl: A Life Worth Living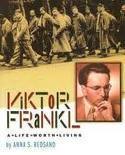 Viktor Frankl: A Life Worth Living is currently out of print. The author has a limited number of copies but purchase will not be available through the author for several months (as of July 2016).
Awards

Notable Social Studies Trade Book for Young People
New York Times Best Book for Teens
Bank Street Best Children's Book
School Librarians International Honor Book
Viktor Frankl, survivor of four concentration camps during the Holocaust, is best known for his widely read Man's Search for Meaning, an account and psychological analysis of his experiences in the camps. Written for Young Adults, Viktor Frankl has generated crossover interest among adults. It has been used in high school and college classrooms and by adult book groups.
Reviews

"The author successfully illuminates how the Holocaust deeply affected Frankl's life and career, as he continued to find meaning through his writing, lecturing and his practice."
~ Publishers Weekly

"Redsand has written an intriguing biography of a man who made a huge impact on the lives of many. His story presents a valued and readable look at one man's life."
~ School Library Journal

"This account resounds with the optimism that characterized Frankl's life despite his profound losses during the Holocaust."
~ Horn Book Guide

"...this solid, serious biography chronicles an inspiring life....a well written book...that overflows with clearly explained information about heavy topics: competing psychiatric theories, discipline of logotherapy, Nazi rise to power and targeted destruction of Jews."
~ Jewish Book World Magazine

"... a good Holocaust book forces readers to think about their own lives in two ways: What would I have done then? What connection and moral choices must I make now?
...'the best books don't exploit the violence. Neither sensational nor sentimental, they tell the truth.'
Which is exactly the power and glory of the following biography of Viktor Frankl...
...attention to detail is exact...akin to a well-staged and -lit, action-packed drama."
~ Ottawa Jewish Bulletin

"...an accessible biography [for] adolescents and young adults...yet...has a place on the bookshelves of Frankl scholars..." ~ The International Forum for Logotherapy

"Redsand's research included interviews with Frankl's widow, other primary sources and extensive reading in the subject area. This book is well written and is a fascinating look at a man who well deserves being remembered..."
~ WashRag